Cold Stone Creamery is slowly gaining popularity and has about 7 locations in the Lower Mainland. To make their way into the Canadian Market, they have partnered up with Tim Hortons and make it part of their store.
If you look inside, it looks exactly like a Tim Hortons and at times it's really hard to find a seat to sit at.
They have signature creations that you can choose from without making the decision of which ice cream to get with what topping.
If you want to be a bit different, you can make your own creation or just have some smoothies and milkshakes.
They have a few flavours to choose from. They have the usual mint, cotton candy, coffee, etc.
They have a lot of choices for toppings, so make sure you don't go over board because it will cost you! You can even put your ice cream in a waffle cone. I had a horrible experience last time at the Coquitlam Coldstone by choosing my own toppings.
When you choose everything, they begin mixing it together on a "cold stone", get it? It's actually quite cool seeing them mash up all the ingredients together.
M ordered the 'Cookie Doughn't You Want Some' in a 'Like It' Size with a chocolate waffle cone.
It has Vanilla Ice Cream, Chocolate chips, cookie dough, fudge and caramel. M liked it for the first few bites but felt it was quite sweet, so he was glad he got the smallest size.

I ordered the 'All Lovin No Oven' in a 'Like It' size with an original waffle cone.
It has cake batter ice cream, cookie dough, fudge and whipped cream. I really did not like the addition of the whipped cream, it felt way too sweet and added such a slimy texture to the ice cream. I also found that the waffle was quite old and stale. It didn't have the nice crispy "snap" when you break it off.
Overall, we both found their signature creations to be too sweet and not really suited our tastes. I prefer my gelato or froyo.
Words of Wisdom:
"Like it" Is a good size if you don't want to over indulge
Found their creations to be too sweet
Lots of Parking at Metrotown.
We Rate Coldstone Creamery:
Address:
Unit 1157 – 4700 Kingsway
Burnaby, BC


I found this on a forum, so I hope it's legit and you can redeem it and see for yourself.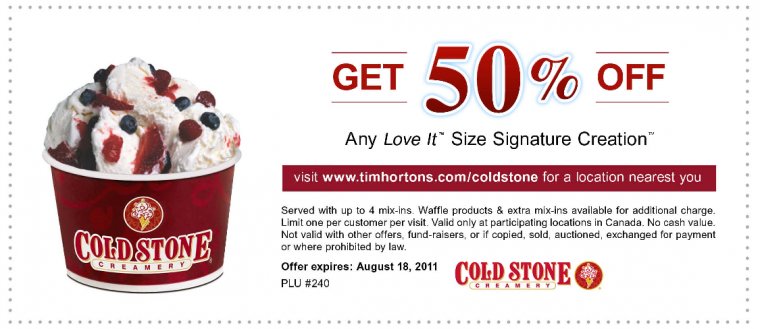 http://smartcanucks.ca/wp-content/uploads/2011/07/coldstonecreamery.jpg